What is your favourite Embrace song?
Save Me.
What was your favourite Embrace gig?
SG#17 Cornwall. Just pips the Royal Court.
What is your favourite Embrace Album?
OON
What is your favourite Embrace B-Side?
Feels Like Glue/Love Order
In what order of greatness (1-10) would you place tracks from Out of Nothing?
Someday
Keeping
Ashes
Glorious Day
Wish Em All Away
Near Life
Looking As You Are
OON (my favourite Live track from OON)
Spell it out
Gravity
In what order of greatness (1-10) would you place tracks from This New Day?
Exploding Machines
NUC
ICCD
ESS
NL
Target
Sainted
TEIN
Celebrate
TND

Subject to change at a moment's notice
What and when was your first messageboard post?
When I stopped being scared of everyone else - about August 2004, it wasn't to ask for the now defunct SG password - I let other newbies make arses of themselves instead...
Who was the first messageboarder you met?
i think it was Hudson, then Bewildergirl who's been one of my vest buddies for over ten years.
What is the most stupid thing you've done at a gig?
Got stoned and then got sunstroke and had to be taken away by the St John's Ambulance Brigade. I thought this was the stupidest thing I'd done at a gig. Until I puked into a plastic sandwich bag at the Mancs Apollo gig, sealed the bag up, popped it down with all the broken plastic cups, and went back to bounce up and down on the barrier all over again.
What other music do you like?
Doves, Kasabian, Sam Cook, Radiohead, Badly Drawn Boy, N*E*R*D, Leftfield, Mozart, Blondie, Wyclef, Teenage Fanclub, Patrick Wolf, Arcade Fire. Mainly generic Indie, some prog rock and pop music. Not jazz: never!
What are your favourite albums?
Hour of Bewilderbeast -BDB
Rhythm & Stealth - Leftfield
Parallel Lines - Blondie
OON
The Queen is Dead - the Smiths
Delays - Faded Seaside Glamour
Pink Floyd - The Wall
Patrick Wolf - Lycanthropy
What are you currently listening to?
Stereophonics - Handbags and Gladrags
What is your favourite Jelly Baby?
None - can't have artificial colourings or flavourings...
Who is your favourite Neighbours character?
Madge
Most likely to say…
Bollocks... (usually at completely inappropriate moments)
Least likely to say…
Yes Vicar, of course I'll help out with the flower arranging.
Cricket - good or evil?
Not worthy of mention.
What was the last thing you ate?
Muesli. It's like instant flatulence with milk. Damn healthy eating to hell and back.
What did you want to be when you were growing up?
A vet. I'd even work in the vet's assisting surgery and help out if they were operating in the fields. Couple of problems got in the way. I couldn't be arsed to do four years at college and it transpires I'm a real softie. I couldn't have put a healthy animal down, and every animal I met 'needed' rescuing. I'd've ended up living in a bloody menagerie...

As time passed it turns out not going down this career path was right: I got squeamish at the sight of blood, then I got allergic to just about everything with fur.
If you were having a dinner party, which member of Embrace would you want to help in the kitchen?
I think it would be Mickey D - I need some recipes for soup.
Cats or dogs?
Both. Bastard allergies.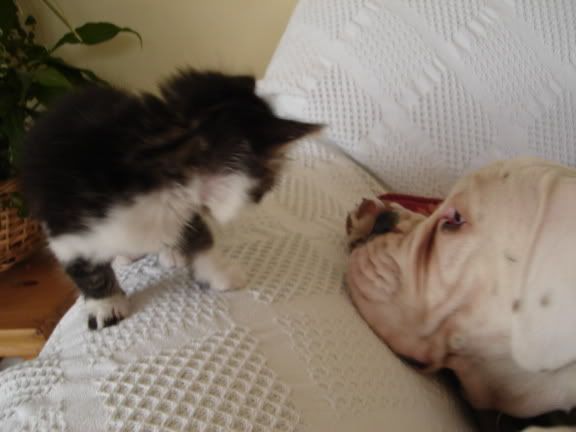 Heaven is…
Nice people, kindness, love and somewhere I'll never see...
Hell is…
Grocery shopping on Christmas Eve.
Madness Rating (1 to 10)
Recent events have made me realise I'm totally sane.
An interesting fact about myself…
When bra shopping I've been known to check the size by putting one of the cups over my head, and if the wire comes to my ears it'll fit...